If you have trouble viewing this email, click on the link below and you will be routed to the online version:
Fabric-ation online
LibbyLand
To quilt or not to quilt . . . what a silly question!
The studio now owns a wonderful new tool called the Circle Lord. It is a template tool with hundreds of patterns and combinations, and in no way is it limited to circles! The straight and curved crosshatching template is the newest arrival (see first photo below), and it provides a great background to set off appliqué work.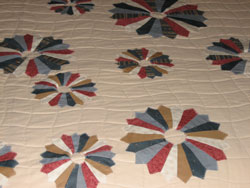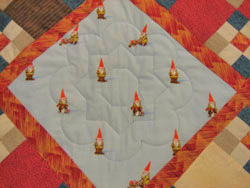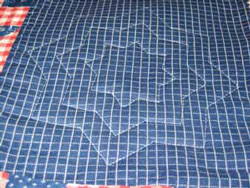 A large Superior Thread order has also arrived, and adds great color to LibbyLand! Libby much prefers this particular type of thread, and as the studio increases the number of color choices on hand the turnaround time for your project will improve.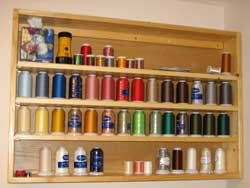 Quilting Motif Enhancements
Have you ever tried to draw a picture with a mouse? I have, and it doesn't work very well! I have recently purchased an electronic drawing tablet. It allows me to draw quilting motifs on a tablet with an electronic pen, and they appear on the screen. With the help of the Photoshop software, this means that I can layer a suggested quilting motif on top of a digital image or scanned version of your quilt block or top. The combined image helps customers to visualize what the finished quilting will look like on the top, and since the entire image is digitally captured, it can be uploaded to the website or emailed for viewing and selection!

Below is an example - on the right, possible quilting motifs are drawn in both black and white electronic ink so they can be seen easily: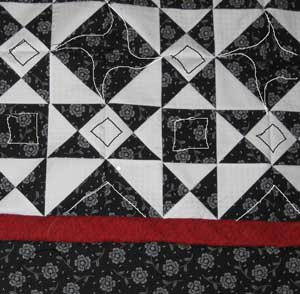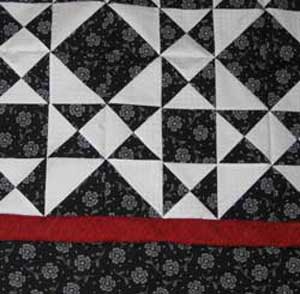 Emi-sphere
In the future, this portion of the Fabri-cation will be devoted to embroidery news. Emi has ten different built-in fonts. A wonderful chest of embroidery thread has arrived, and I am currently learning about stabilizer choices and hooping techniques. Below is an example of a pieced-in personalization block (last names have been removed to protect the privacy of the customer).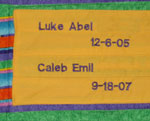 Upcoming Trips
There is a wonderful quilt show in Bloomington, Indiana every March. It is held at the Convention Center and has a great mixture of vendor booths, quilts and classes. The main floor can be enjoyed in a few hours (which saves your feet and is less overwhelming) and provides great inspiration for starting those spring projects! If you live in central Indiana and have a chance, check out this show March 5-7 - visit the website for more information: Indiana Heritage Quilt Show.
Questions about the website? Contact Karla@FourFriendsAndFabric